Hooliganism is one of the main security threats during any football event. The World Cup in Russia will be no different.
What we know as football hooliganism peaked and has its European roots in the 1980's in United Kingdom. The movement came to be heavily countered by authorities in the late 1980's and early 1990's in that region. Fatal brawls are now not as common on British soil as they used to be, but it does not mean that English (and other UK squads) supporters have seized such activities, especially when it comes to continental Europe. They are however not alone. Russian hooligans, for example, have taken the lead from their English counterparts and become some of the most violent groups of supporters in football.
In the last UEFA Euro Championship held in France, a major battle between English and Russia hooligans took place on the streets of Marseille and continued to the match venue of the game between the two countries. Several supporters were injured in the incident and the clashes could for a long period not be contained by French riot police.
Russia's riot police is advertised as more robust and rough, however, it appears that the hooligans are as well. In the 1980's and 1990's, although very violent and fearless, hooligans were, in a vast majority, amateurs. In their latest versions the groups have become even more organized. Military and fighting training camps are common to Russian and other European hooligans. If clashes take place, be it between supporters or with riot forces, they tend to be more violent.
Non-European hooligans, mainly South American, are also expected to attend the games. Due to the distance to Russia, they are expected to be far less than the European supporters, and consequentially, much less prone to pick up fights and cause major disruptions.
Some measures can be taken to try to prevent being caught up in an unpleasant situation involving hooliganism
Be aware of your surroundings. At any sign of escalation in tension and unrest, try to calmly and quickly distance from the source of the threat.
Try to seek shelter in surrounding buildings and businesses such as hotels, restaurants, and stores.
Monitor local news and SAFEY app ahead of any match to check updated security information.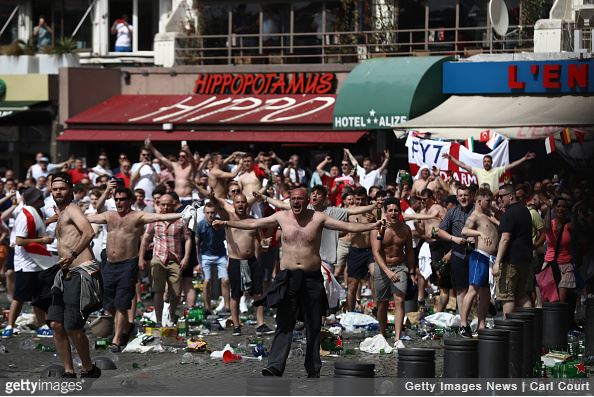 Common criminality in Russia's urban centers follow a global trend: threats to private property such as robberies and thefts concentrate in city centers, and violent threats to life and physical integrity are mostly reported in city outskirts.
During major events, that trend applies even further as tourist flows grow bigger. Pickpocketing, thefts and robberies are expected to be especially higher in tourist areas. Tourists are also more likely to be victims of other crimes and schemes: Ticket fraud attempts can be expected during the event. Reports of tourists being drugged in bars and nightclubs and then assaulted or robbed are not unusual in major urban centers, and this kind of crime usually increases during events that draw tourists' attention.
Some safety measures can also be taken to be as protected as possible against this kind of criminal activity: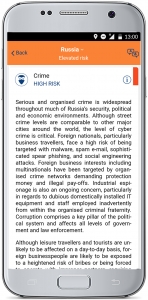 Be aware of your surroundings. Pickpockets and other attackers are more likely to approach inattentive people.
Avoid showing off valuable belongings such as jewelry and electronic equipment (smartphones, cameras, etc.).
Use hotel rooms safe for important documents and valuable property.
Try to not to hit bars and nightclubs alone. A trusted company is advised.
Prefer bottled drinks and/or watch your drink be prepared/opened.
Purchase tickets, tours, transfers and other related services from authorized and official sources.
Monitor local news and read SAFEY app for updated information.
Saint Petersburg
Population: approximately 5.200.000
Stadium: Saint Petersburg stadium (67.000)
Matches:
15 June, 18:00  – Morocco vs Iran – Group B
19 June, 21:00 – Russia vs Egypt – Group A
22 June, 15:00 – Brazil vs Costa Rica – Group E
26 June, 21:00 – Nigeria vs Argentina – Group D
3 July, 17:00 – Winner Group F vs Runner-up Group E – Round of 16
10 July, 21:00 – Winner Match 57 vs Winner Match 58 – Semi-final
14 July, 17:00 – Loser Match 61 vs Loser Match 62 – Third place match
Fifa Fan fest: Konyushennaya Square (15.000)
Samara
Population: approximately 1.100.000
Stadium: Samara Arena (45.000)
Matches:
June 17, 16:00 – Costa Rica vs Serbia – Group E
June 21, 16:00 – Denmark vs Australia – Group C
June 25, 18:00 – Uruguay vs Russia – Group A
June 28, 18:00  – Senegal vs Colombia – Group H
July 2, 18:00 – Winner Group E vs Runner-up Group F – Round of 16
July 7, 18:00 – Winner Match 55 vs Winner Match 56 – Quarter-finals
Fifa Fan Fest: Kuibyshev Square (31.000)
Volgograd
Population: approximately 1.000.000
Stadium: Volgograd Arena (45.000)
Matches:
June 18, 21:00 – Tunisia vs  England – Group G
June 22, 18:00 – Nigeria vs Iceland – Group D
June 25, 17:00 – Saudi Arabia vs  Egypt – Group A
June 28, 17:00  – Japan vs Poland – Group H
Fifa Fan Fest: The 62nd Army Embankment (15.000)
Continue to monitor our SAFEY app for updated information on events in Russia.