SAFEY EMERGENCY SYSTEM
THE NEXT-GENERATION TRAVEL RISK MANAGEMENT SOLUTION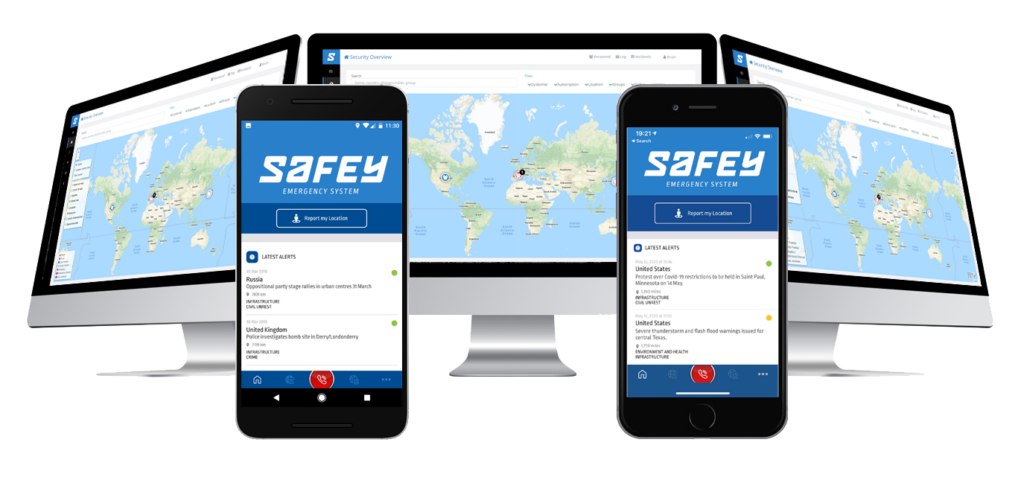 Experience a new way to take control of employee safety with SAFEY
– the premium travel risk management solution for corporate security teams and business travelers
SAFEY keeps travelers safe, wherever and whenever traveling and provides real-time status on warnings, alerts, security information and travel plans. The SAFEY Emergency System integrates two security tools: the SAFEY app and the SAFEY risk management web portal.
The SAFEY app adapts to your language and makes it easy to share your location and alerts. It helps you to be better prepared for the destination you are traveling to, the risks and how to avoid them.
Watch the video below to see how it works
PROTECT YOUR MOST VALUABLE ASSESTS – YOUR EMPLOYEES
Most companies still spend significantly more on the safety of their buildings and equipment than on their employees.
A new alarm system, higher fence and windows security bars protect expendable physical objects but not the intellectual capital.
The employees workplace has evolved far beyond locked premises. International trade is constantly increasing and many companies have staff all over the world.
Recent events across the globe show that serious incidents are very difficult to predict and almost always happen without any warning, even in cities that were previously spared from terrorist acts and violence.
When the unexpected happens – terrorist attack, natural disaster or extensive political protests –  it is often very difficult to find out what has really happened and what the consequences will be. It can also be difficult to quickly locate employees. Are they close to the event or are they safe?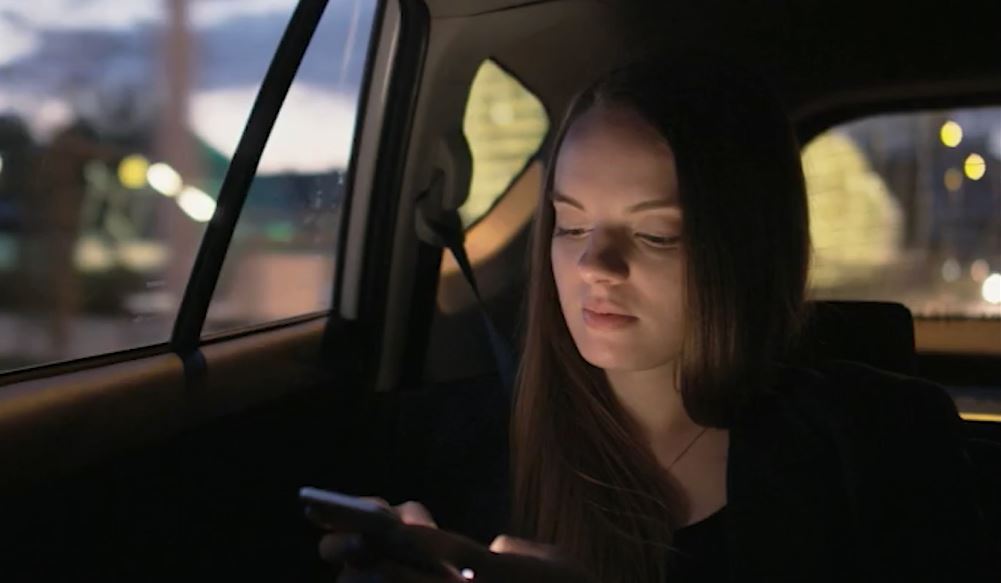 In a crisis, receiving accurate information can be crucial. SAFEY helps your company and your employees quickly take control of the situation and make informed decisions.
SAFEY DELIVERS CONSTANT PROTECTION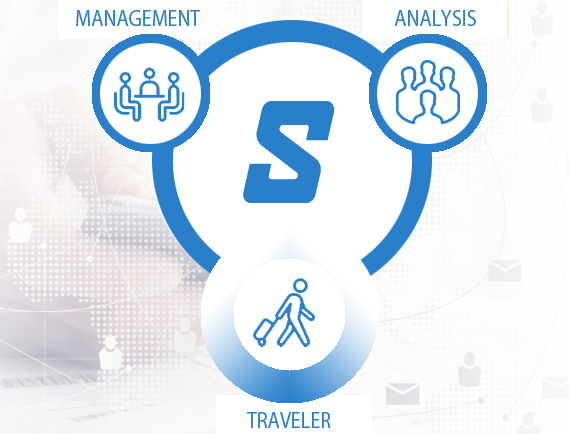 Traveling far away or visiting customers at home? SAFEY helps you wherever you are.
With analysts monitoring the world around the clock, SAFEY is an asset both on the go and at the office.
If something unforeseen happens, you get important information delivered quickly, free from speculation and sensational rumors. Our analysts constantly follow developments and retrieve information from credible sources before it is compiled and sent directly to those affected.
By using SAFEY, both staff and companies quickly get alerts and support when something serious has occurred.
SAFEY makes it possible to contact each other immediately to make informed decisions. Safeture is the best choice for organizations and companies that want to protect their employees from risks and act professionally when something happens.
SAFEY is an indispensable tool for companies to help their employees and act responsibly as employers. SAFEY creates a safer world, a world where peace of mind has no borders.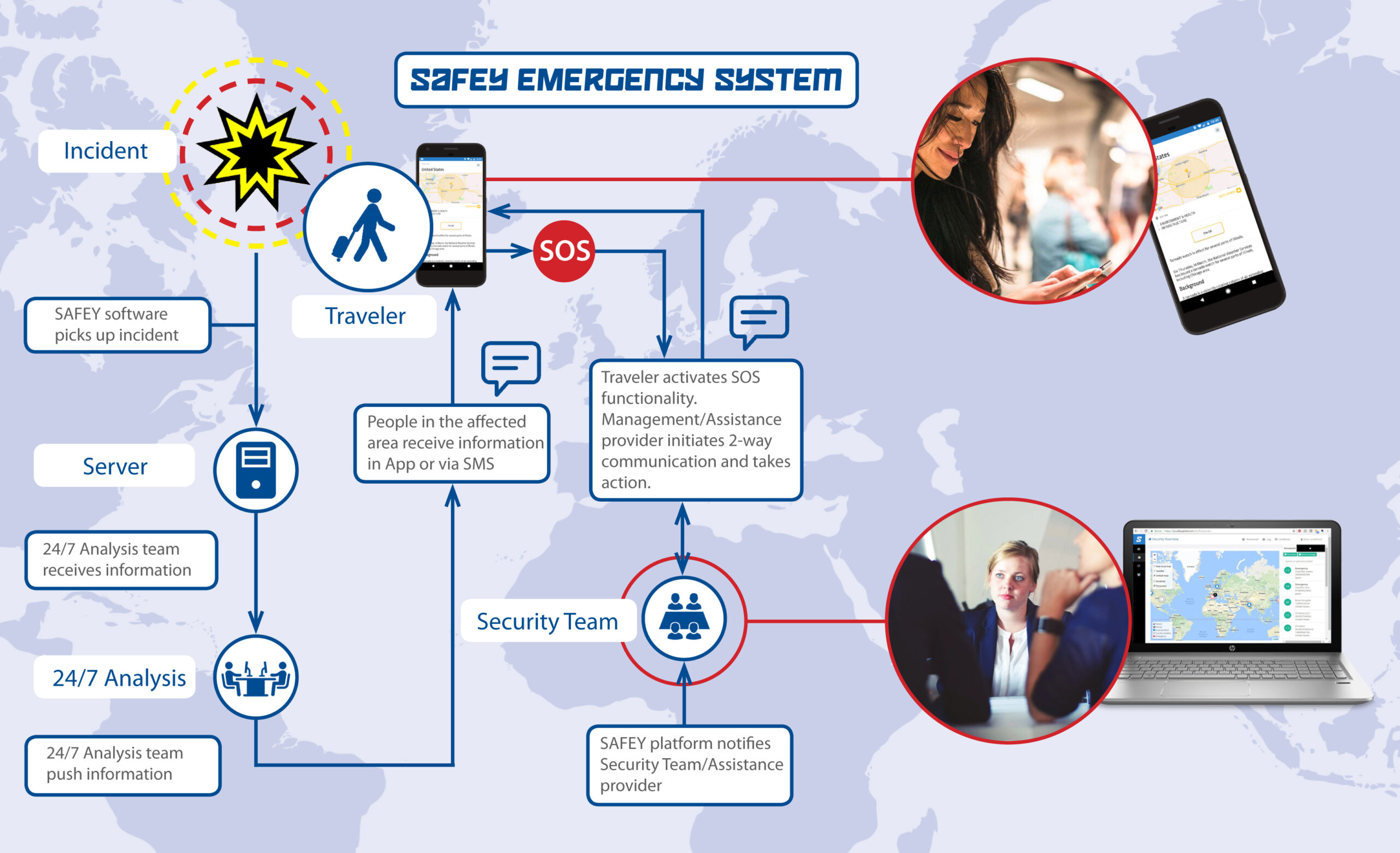 HELP IS ALWAYS CLOSE AT HAND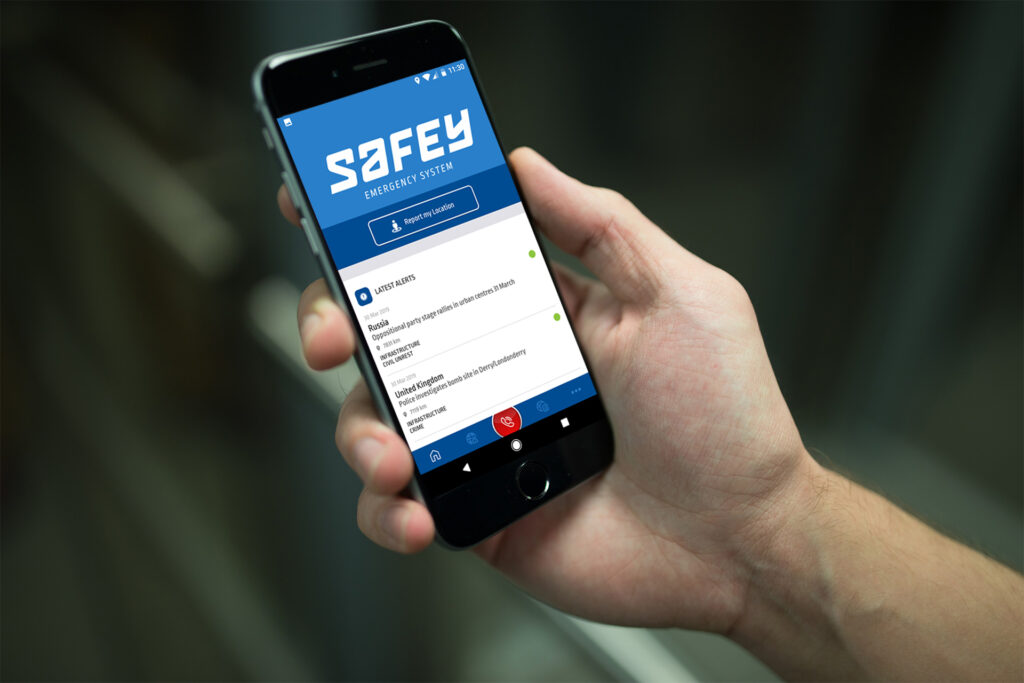 SAFEY allows travelers and companies to feel well-informed and secure in a fast-changing environment.
The SAFEY app always gives users information in real time. 
Directly on the phone, it also provides updates of events in the area where they are located or on their destination, which may affect their travel plans and safety. 
Messages are crafted with care and expertise and sent to users and their security officers.
SAFEY also contains practical information on more than 200 countries.
You find facts about: culture, language, climate, visa, currency converter, holidays and festivals. A library of diseases with information about likely symptoms, recommended medication, possible side effects and best treatment.
RISK MANAGEMENT FOR BETTER DECISION MAKING
SAFEY contains the risk management tool ISO (Instant Security Overview).
It enables security officers to immediately locate people, and to contact and assist them in case of a serious event.
By being updated with real-time security information, users avoid new incidents, and companies can quickly make wise decisions to ensure the safety of their staff.
SAFEY also focuses on preventive work. It incorporates travel information on more than 200 countries and regions, local government contact information, diseases and how to avoid them, current security threats, and monthly global health reviews.
By adding employee travel booking data, the service receives another layer of information for positioning in addition to real-time positioning from the mobile phones. 
Travel data enables companies to have a very good overview of all their employees, and business travelers quickly get updates about any modified travel plans or delays, directly in their phones.
We tailor our technology and services to the specific needs and requirements you have. SAFEY offers risk management solutions for organizations and companies of all different sizes.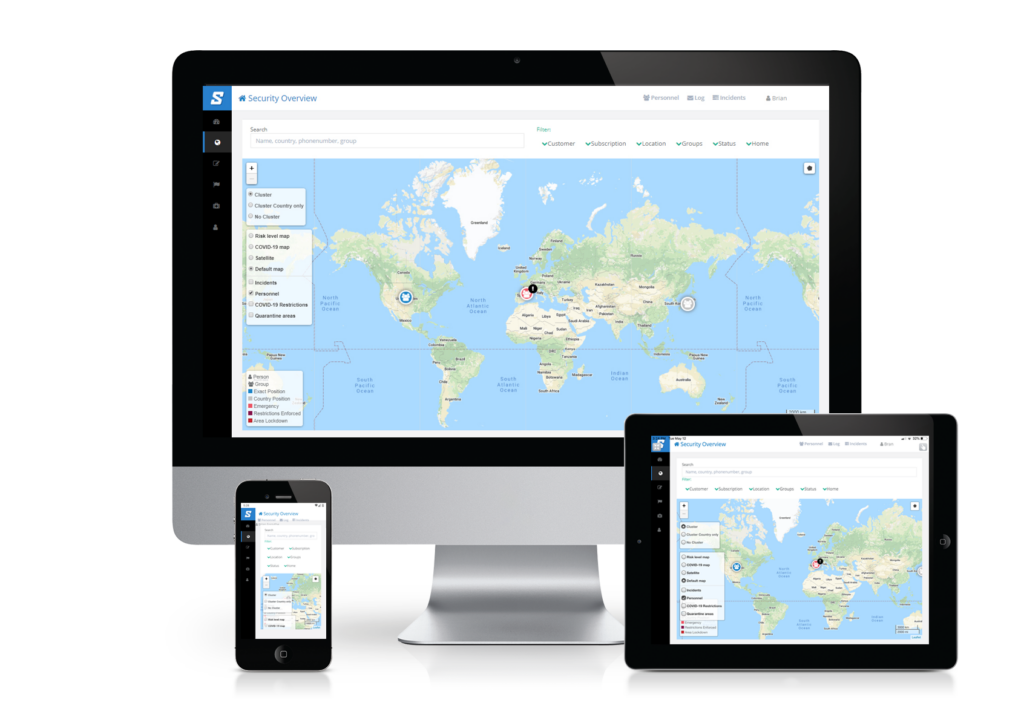 WHY SAFEY EMERGENCY SYSTEM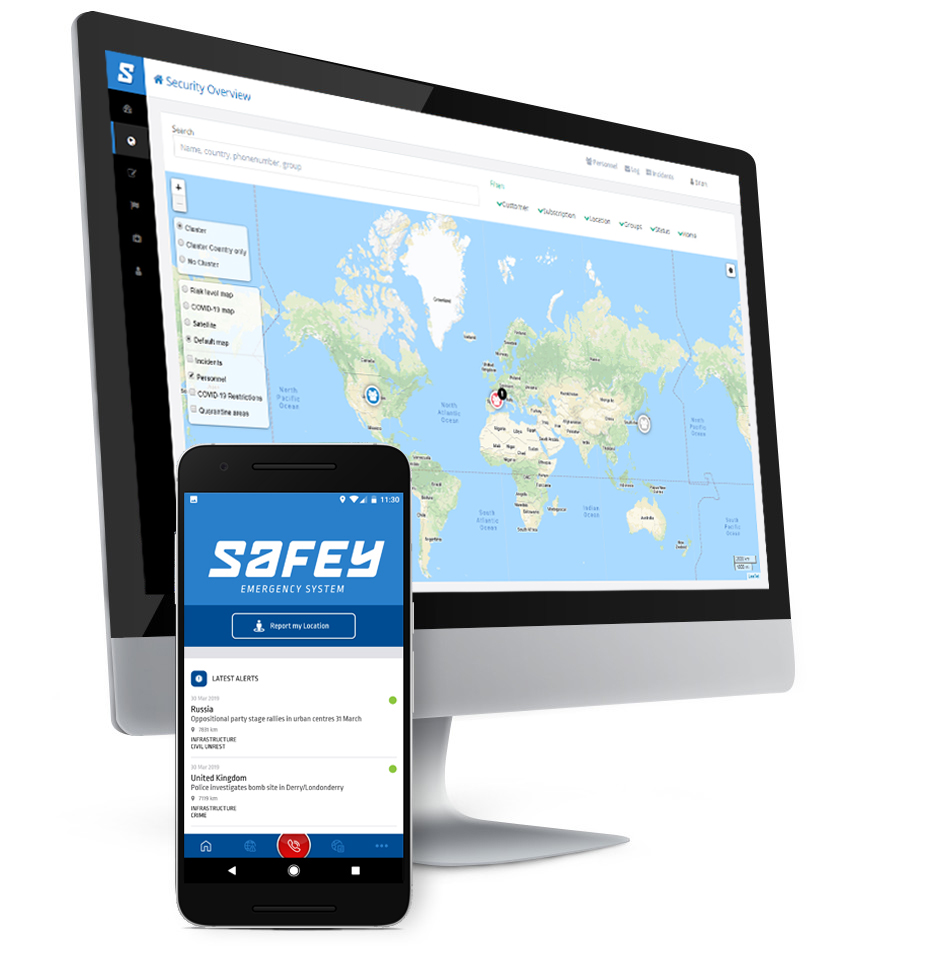 Our team of analysts

 

assesses all important events around the clock and compiles reliable information about what has happened.
Through world-leading technology,

 

SAFEY identifies which people are in the vicinity of a serious event and provides relevant information via the phone about what has happened and advice on how to act.
Security officers

 

receive information about the events and can immediately contact people to decide on the action through the platform's risk management tool.
SAFEY contains information

 

on more than 200 countries and regions including cultural and medical advice and facts.
SAFEY is well established

 

and already helps a large number of international organizations and companies.
With travel booking data,

 

business travelers are quickly updated about any modified travel plans or delays directly on their phones.
Studies show that staff feel safer when traveling with SAFEY.