BREXIT: WILL BRITAIN MAKE IT TO THE 31 OCTOBER DEADLINE?

The deadline for the United Kingdom's separation from the European Union is approaching fast, with 31 October set as the current date. However, with the political turmoil around the Brexit process continuing, any prediction of what the turnout will be remains difficult. Following a parliamentary vote the government will have to seek an extension until the end of January 2020 unless it secures a deal with the EU that the parliament accepts by mid-October. As of 23 September, a UN summit is imminent in New York where it will feature meetings attended by EU leaders and British Prime Minister Boris Johnson. Despite cautious optimism expressed by leading figures concerning the possibility of reaching a deal, the outcome remains uncertain, with the issue of the status of the Irish border remaining highly contentious.
If a deal is not reached by 19 October, and an extension is sought there is no guarantee that the EU bloc will grant it. If the EU in turn would require modifications to the extension in order to accept it, that would then need to be sent back to the British parliament for ratification, a scenario that would likely result in a no-deal Brexit.
Shortages of some foods and medicines in the UK, could potentially be felt rapidly following a hard Brexit.
Beyond the question of the outcome of the process the issue of what the consequences will be remain contested. In recent weeks representatives from various economic sectors, such as banking and the automotive industry has issued warnings of possible disruption to supply lines and business, while other economists have downplayed the potential impact. Another possible problem that is often mentioned in regard to Brexit is possible shortages of some foods and medicines in the UK, and these could potentially be felt rapidly following a hard Brexit. This could in turn result in an uptick in civil unrest.
In all aspects, the uncertainty that has marked the Brexit process ever since the results of the election remains.
HONG KONG PROTEST: NO SIGN OF TENSION EASING UP DESPITE GOVERNMENT CONCESSIONS

It has been more than three months since protests over an extradition bill erupted in Hong Kong.
With no sign that the tension between the protesters and territory's government abating, the situation is the region's key financial hub will likely to dominate the headlines in October. Although the government has offered concession by formally withdrawing the bill, human rights activists have vowed to press through with their action to demand for greater democratic rights that they claimed have eroded amid increased intervention by Beijing.
As with the past, protesters will likely to converge at crowded locations including shopping malls and parks as well as police stations, Mass Transit Railway (MTR) stations and government buildings to express their dissatisfaction. Violent clashes should not be ruled out especially in the vicinity of protest sites though travelling out of these zones are still possible. Transport disruptions including MTR delays due to these protests also should be considered. To date, SAFEY has provided more than 140 updates for its users as protests ranging from small to large-scale have been taking place almost on weekly basis.
The map below illustrates the locations where protests have occurred since the beginning of the protests and also highlights trending areas. Travelers should stay vigilant when they are travelling to these locations.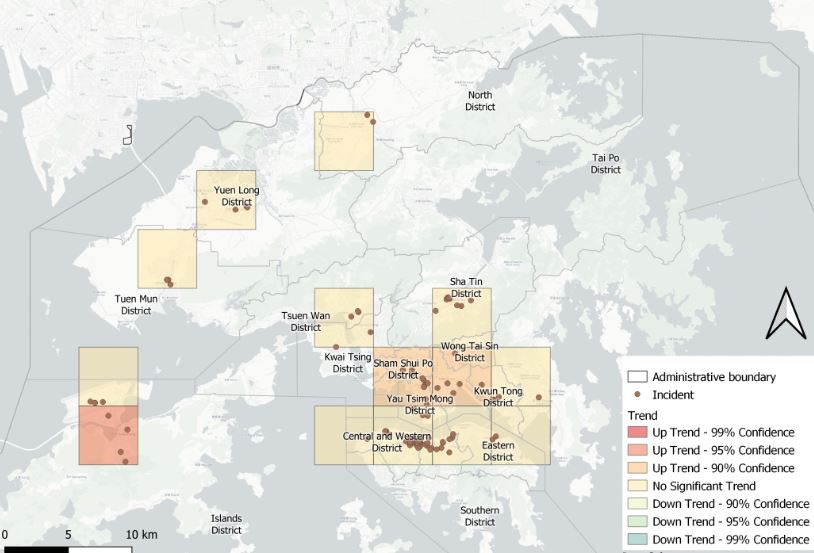 Electoral violence in Colombia
The approaching October 27's municipal elections in Colombia have sparked a wave of deadly violence against candidates, with at least 24 attacks reported and five of them resulting in fatalities. According to the Inter-American Commission on Human Rights, 418 Colombian localities face the risk of electoral violence due to the presence of armed groups in their territories, such as the National Liberation Army (ELN) and former FARC dissidents. Antioquia, North Santander and Nariño departments represent the regions with the highest number of cities classified as in extreme electoral risk. SAFEY receives updated information on this matter in order to keep travelers informed on risk areas.

Atlantic hurricane season in the Americas
The 2019 Atlantic hurricane season, that runs until November 30, has already registered four hurricanes and two tropical storms which led to at least 62 casualties and widespread infrastructure damage (at least 8.483 billion US dollars). SAFEY works constantly to offer updated information on approaching storms and guidance on preventive actions to mitigate their impact. Current areas affected include the Bahamas, Bermuda, coastal Mexico, southern and southeastern United States, Puerto Rico, Atlantic Canada and several other Caribbean islands. Future storms will be named as Melissa, Nestor, Olga, Pablo, Rebekah, Sebastien, Tanya, Van and Wendy and might cause as much damage as previous ones.

Haze in southeast Asia to ease as monsoon season approaches
Parts of southeast Asia particularly Malaysia, Singapore and southern Thailand have been choking since early September due to the annual haze season caused by open burning in Indonesia. Air quality in these countries dropped significantly resulting in closure of schools and flight disruptions. With the expected change of wind direction and rains due to the monsoon season, situation could ease by October, bringing respite to millions of residents in the region. Risk of flooding however should be anticipated. To keep travelers informed, SAFEY also provided regular updates of Air Pollutant Index (API) readings in the affected countries.

Risk of prolonged protests against Al-Sisi's rule in Egypt
Waves of protests against the government of President Abdel Al-Fattah Sisi erupted in September. The protests amidst corruption accusations against Al-Sisi and his aides were initially held in Cairo before spreading to eight other cities. While the young protesters continued to demand for the departure of Sisi, there have been concerns that the latest round of protests might result in a standoff seen during the 2011 revolution, which toppled the presidency of Hosni Mubarak. The government on the other hand might respond by using heavy-handed tactics against the protesters.
OCTOBER TIMELINE
What to look out for this month:
Oct 1 China's National Day celebrations and Golden Week Holiday
Oct 1 Closure of Jammu Airport (IJX) for 15 days
Oct 6 Parliamentary elections in Kosovo
Oct 6 Presidential run-off and legislative elections in Tunisia
Oct 8 Dussehra festival in India and Nepal
Oct 15 General election in Mozambique
Oct 17 General election in Gibraltar
Oct 20 Elections in Bolivia
Oct 21 Elections in Canada
Oct 23 General election in Botswana
Oct 27 Diwali celebrations in south Asia and parts of southeast Asia
Oct 27 Municipal elections in Colombia
Oct 27 Elections in Argentina
Oct 31 Brexit
Contributors
Chan Cheong
Senior Analyst and Office Manager Malaysia
Rickard Larsson
Senior Analyst
Gabriella Ribeiro de Araújo
Analyst
Johan Emilsson
Senior Analyst
Copyright Safeture 2019