The democracy beacon in Armenia was finally lightened when Prime Minister Serzh Sargsyan resigned after days of street protests. His resignation was regarded as the victory of the masses against the ruling party that attempted to extend Sargsyan's rule. The movement would not have succeeded without the efforts of the opposition leader Nikol Pashinian, who embarked on a nationwide tour to rally his supporters to protest against the ruling party's move.
Across Armenia, protesters blocked streets and highways in cities and towns to demand for Sargsyan's resignation. Besides his long-rule, corruption, nepotism and economic inequality are also some of the issues that irked the Armenian people, triggering them to join the so-called "Velvet Revolution". Throughout the three weeks of political crisis, there was not only a sense of uncertainty on the streets, but the determination of the people to overthrow the regime was also felt. Eventually, Sargsyan conceded and agreed to step down as prime minister. However, the crisis did not end as the parliament refused to elect Pashinian as prime minister, which once again triggered more outcry on the streets. It was not until 8 May that the Republican Party agreed to elect Pashinian as prime minister, ending the standoff between the streets and the ruling elite.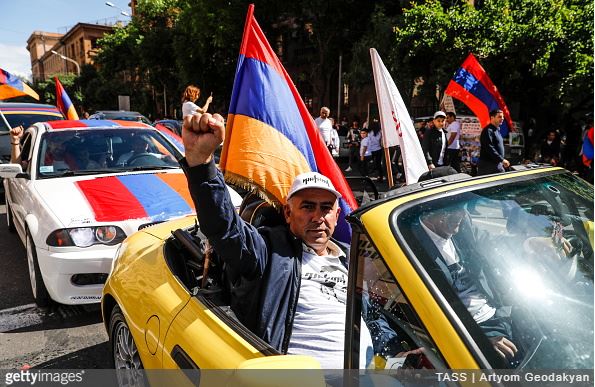 Following is a timeline of the events as well as SAFEY reports:
The crisis in Armenia started when the Prime Minister Serzh Sargsyan reneged on his promise of not seeking high office once the constitutional change to make the prime minister more powerful than the president was passed in 2015.
First alert by SAFEY on protests by the opposition on 11 April

The protest action was scheduled to be held daily between 11-17 April. The protesters gathered at Republic Square in Yerevan to voice their anger over the government led-by Sargsyan.
Subsequent alerts by SAFEY as protests spread to other cities between 17-23 April

Multiple alerts were sent out for users in Armenia as the situation escalated with protests spreading out of Yerevan to cities like Gyumri among others. Despite this, there was no reports of significant violence and only yellow alerts were sent.
13thalert by SAFEY as PM Serzh Sargsyan resigns on 23 April

PM Sargsyan eventually resigned on 23 April and this was reported as part of SAFEY's coverage on the overall political situation in the country.
Nine alerts by SAFEY between 23 April-7 May amidst continuous political wrangling for PM position

As the resignation of Sargsyan failed to douse the public anger, SAFEY continued to update users about the street protests and related blockades that paralysed centre of Yerevan. The crisis was only defused when Nikol Pashinian was chosen as PM on 7 May.