Incident Reporting by SAFEY
At the end of January 2018, additional security forces were dispatched across major Mexican tourist destinations amid increased violence between criminal gangs and security forces.
Violence related to organized crime has increased since 2017, affecting several regions in Mexico including popular tourist destinations. Criminal groups, including drug cartels, are very active in parts of the country. Clashes between gangs or cartels over territory, drugs, or smuggling routes are common, and can result in a high level of violence. Security has been heightened in several areas due to shooting incidents, and although tourists have not been the target of gang violence, bystanders remain at risk of getting caught in the crossfire.
In some parts of the country, military and federal police forces have been deployed to combat organized crime and to improve security. They maintain a visible presence by patrolling the streets, and are likely set up roadblocks and conduct vehicle checks. Armed clashes between security forces and criminal groups do therefore occur at times.
The most affected tourist destinations have been La Paz, Cancun, Playa del Carmen, Los Cabos, Manzanillo and Colima. While Cancun and other destinations are mainly known for their beautiful beaches, growing crime rates are casting a shadow over the paradise destinations. On 21 February 2018, an explosive device detonated on a tourist ferry operating between Playa del Carmen and Cozumel in Quintana Roo, injuring 20 people, including tourists. On 1 March, local authorities found an undetonated device on another ferry operating on the same route. A travel warning in the region is still in place.
Travel warnings have further been issued to several northern states due to high levels of violence, mainly linked to organized crime. These states include Chihuahua, Coahuila, Durango, Nuevo León, Sinaloa, Sonora and Tamaulipas.
Armed clashes between security forces and criminal groups can occur at any time without warning. With the escalating violence, SAFEY has kept travelers updated on incidents and developments in the region. Alerts about both isolated shootings as well general information on the security situation and violence in Mexico, have been sent out to travelers in affected areas, in order to keep those in the region informed and up to date. The alerts are meant to inform users on recent incidents and developments in the region to keep travelers safe.
The aim has further been to minimize any inconvenience possible heightened security measures may cause, by sending out alerts about the regions with additional military presence which may exercise measures to ensure safety locally.
Further violence is likely as the country continues to battle the issue of organized crime. SAFEY will continue to monitor the situation and send out relevant information and security alerts to keep travelers as safe as possible.
Incident Map
Following is a map showing violent incidents at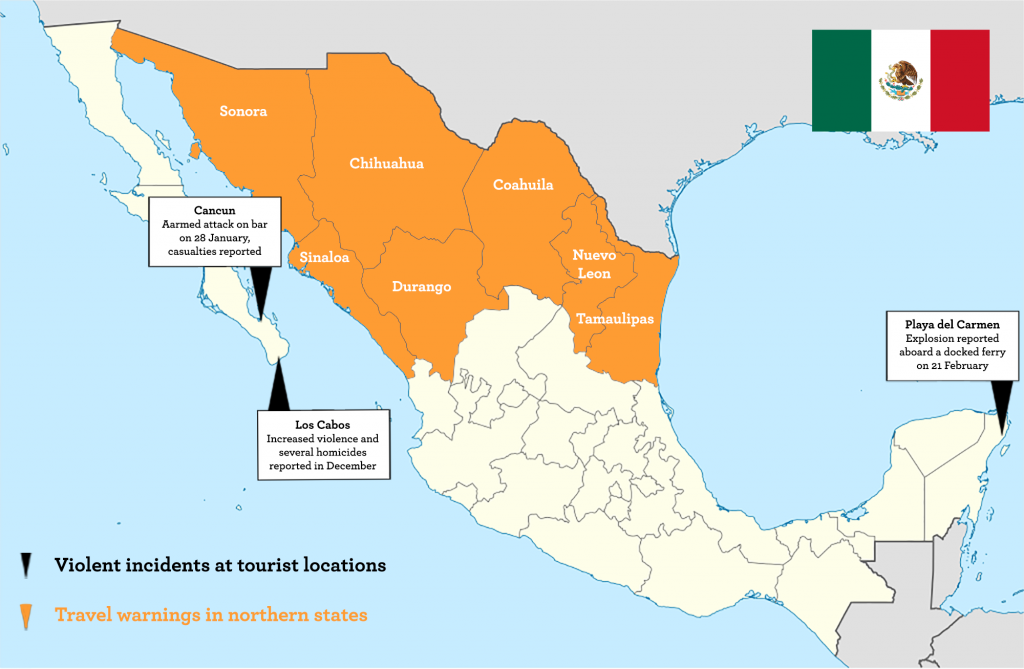 popular tourist locations and travel warnings issued in several states due to organized crime and likelihood of violence: