Incident Reporting by SAFEY
A vehicular attack struck the heart of Manhattan, New York in late October, reigniting memories of the September 11 terrorist attacks that brought down the World Trade Center almost 16 years ago. Although smaller in scale, the incident was regarded as the second deadliest terror attack in the city since September 11, 2001, with eight people being killed. More importantly, the attack has also once again confirmed the shifting tactic in terrorist attacks across the globe in which driving a vehicle into crowds of people is being preferred. 
Vehicle-ramming attack as it is most often referred to has been on the rise in recent years with 12 such attacks being recorded this year alone. Cities that have been targeted include London, Barcelona, Paris as well as Stockholm among others and they often happened at a place where tourists and locals alike converge. Such tactics also received an endorsement from groups such as Al-Qaeda as illustrated in its Inspire Magazine's article calling for use of vehicle as a weapon to "… mow down the enemies of Allah." For the intelligence community, the use of this tactic is also a worrying development as these attacks are harder to stop as they do not involve a purchase of firearms or anything similar. Instead, the perpetrator is just required to engage a car rental company or in the case of Berlin, steal a truck before committing the atrocities. As a result, enforcement agencies will also be required to work in a proactive manner by maintaining close contacts with rental companies so that such attacks could be prevented through credible leads.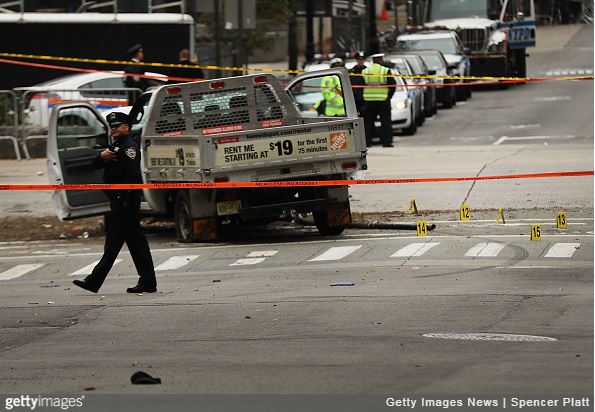 On a practical note, many local authorities have taken initiatives such as installing bollards or barriers so that the movement of a vehicle can be limited during such attack. For ordinary folks, there are also some ways where they can mitigate the risk of being hurt should such event occurred.  For instance, it has been advised that a person to face the traffic when walking along the street especially at crowded places so that evasive action can be taken. It is also advisable that he or she to always be alert when walking at touristic sites such as an open market or public square as these locations are often targeted by the terrorists.
Additionally, apps such as SAFEY keep users updated about the current situation of an attack as seen during the Manhattan incident. Information was relayed in the quickest manner so that those at the scene could grasp the situation faster as well as take necessary measures to stay safe. This is highly important as some attacks could come in stages where the perpetrators could use a vehicle initially before jumping out to cause more harm to people in the vicinity. For people travelling to New York, obtaining filtered and processed information about the Manhattan terror attack also allowed them to avoid the location until the situation calmed down.
It is unlikely that these attacks are going to abate in the coming years amid the continuous presence of groups such as the Islamic State (IS) and Al-Qaeda. However, it is highly important that the way of life of the society can be carried out as usual without the constant fear. With an app such as SAFEY, it has been hoped that travelers can have a peace of mind while abroad by staying informed about related risks in that particular country.
Timeline of Events
The following is a timeline of the events as well as SAFEY and media reports:
On 31 October, the attacker on a rented pickup truck drove into Manhattan shortly after 15:00 (GMT-5) before it swerved into the bicycle lane at Houston Street near Pier 40 between 15:00-15:10 (GMT-4).
First alert by SAFEY at 15:45 (GMT-4) on 31 October

The first alert from SAFEY was sent about 30 minutes after the incident based on reports from various news sources. It contained information about the suspect shooting randomly at people as well exact location where it occurred
Second alert by SAFEY at 19:05 (GMT-4) on 31 October

Alert to provide update to use of lingering disruptions on scene due to police investigation as well as confirmation that it was being treated as a terrorist attack
Third alert by SAFEY at 21:11 (GMT-4) on 31 October

Though unrelated to the incident itself, this alert was sent to users informing them about the continuation of Halloween Parade on the same night in the city. They were told to anticipate for extra security measures during the event