Following a failed coup attempt in June by the Amhara hardliners, there have been growing concerns that Ethiopia could plunge further into another bout of violent conflicts between various ethnic groups ahead of a critical election in 2020. The fault line in Ethiopia's fragile ethnic relationship can be traced back to a system that defines citizenship, politics and identity based upon ethnic grounds led by then Prime Minister Hailemariam Desalegn from the Tigray People's Liberation Front (TPLF). Alongside the Amhara National Democratic Movement (ANDM), the Oromo Peoples' Democratic Organization (OPDO), and the Southern Ethiopian Peoples' Democratic Front (SEPDF), they formed the Ethiopian Peoples' Revolutionary Democratic Front (EPRDF) to rule the country after successfully overthrowing the communist regime in 1991. Since then, ethnic violence continued to remain unabated as a TPLF dominated political system sidelined some of the coalition partners for years, leading to regular anti-regime protests and armed conflicts nationwide. A massive uprising ultimately thrust Abiy Ahmed and his allies into power in 2018, heralding a new era in Ethiopia's political scene.
Abiy has positioned himself as a reformist of the country and a source of hope for the nation prior to April 2018. There is little doubt that Abiy has triggered unprecedented transformation ever since coming into power. As a start, he had freed political prisoners and activists, lifted the ban on political parties countrywide and armed wings such as the Oromo Liberation Front (OLF) and on the international front, he had also successfully ended a 20-year border dispute with Eritrea. However, his ability to address Ethiopia's ethnic conflicts is still underwhelming if not ineffective. Some have even suggested he had somehow allowed the rise of historical hostilities that have been suppressed by the previous authoritarian leadership. Although Abiy has consistently promoted the idea of a federal form of government with a view of "citizenship-based politics", as a solution to stabilize the country's long conflict, his tactics and actions towards "revolutionary democracy" that was aimed to change the political identity through ethnicity has so far remained ambiguous.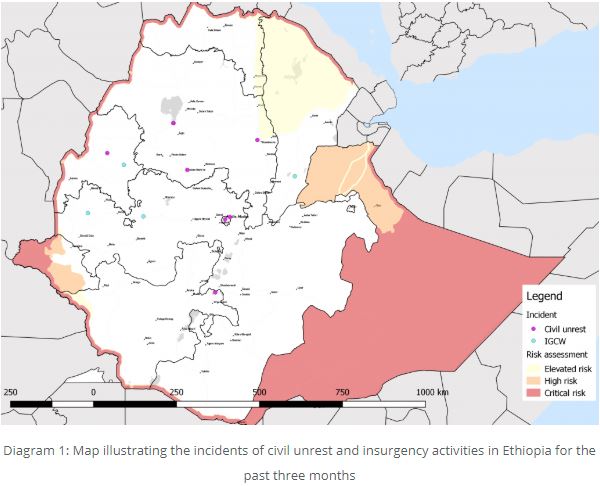 During his first months in office, he has been greeted by many as "national savior" both domestically and abroad. As time passes however, he had been attacked by various quarters for being too weak in taming the violence between various ethnic groups. Ethiopia's ethnic violence has grown in the past year in tandem with deadly protests due to lingering insecurities such as economic inequality, deep-rooted corruptions and human rights violations that he has yet to address. The events in Bahir Dar and Addis Ababa that the government described as a "coup attempt" has also stoked fears that Abiy is losing the momentum in resolving the conflict between the Oromo and the Amhara peoples. While the power grab has been described as a failed attempt, this clearly underscored the deep ethno-nationalist tensions that have heightened under Abiy, thus further complicating his reform agenda as well as setting a rocky path toward the highly anticipated general election in 2020. Suffice to say, an election that goes sideways will certainly push Ethiopia to the edge, and the consequences would have been catastrophic for the nation of over 100 million that has already been beset by mass displacement and other social insecurities.
Will ethnic violence prevail amid forthcoming 2020 elections?
There is a risk that large-scale ethnic violence erupting further ahead of the 2020 elections if Abiy failed to address the various conflicts that have been plaguing the country. Looking back at the June's coup attempt, Amhara leaders felt their group has been marginalized within EPRDF's rule, leaving them to take matters into their own hands. It is possible that political leaders of other ethnics or even the armed groups such as Oromo nationalists or Tigrayan separatists seek to exploit the moment for their political gains. While the attack might not have been widespread enough to overthrow the entire administration, it perhaps can be interpreted as a move to further divide the nation ahead of the key election year. This has also shown that there is an "anti-reform" movement that is trying to subvert Abiy's wide-ranging reform measures. Abiy's hard-line response on the coup attempt could also make it harder for him to gain support within the EPRDF for continued reforms. As reforms stagnated and if the election was to be put on hold, Ethiopia's transition toward a full-fledged democracy could further be undermined. Furthermore, if Abiy stays indecisive over actions to create his proposed non-ethnic based federal system, this may also create uncertainty and eventually destabilize the country further.
Postponing the 2020 elections will create the largest political vacuum and the biggest uncertainty into which all kinds of unpredictable political actors will try to fill the vacuum. As such, many analysts concurred that the scheduled elections are essential for the citizens, even though fragmented, to contain the growing ethnic tensions and other insecurities. A truly democratic-elected government on the other hand enjoys greater legitimacy thus allowing it to mitigate these conflicts more effectively. Anything positive or negative may happen in the time before, during and after the highly anticipated and probably most competitive elections in years. While the EPRDF is expected to retain its parliamentary majority, the opposition is likely to remain at odds with each other on some fundamental issues, therefore making a broad counter-alliance impossible. A successful election may turn out to be a game-changer in Ethiopia's political history, not to mention a triumph of freedom in a country that had its fair share of repressive rulers in the past.
Contributors
Ezza Omar
Security risk analyst based in Kuala Lumpur
Copyright Safeture 2019