After more than two months, the series of street protests that have erupted over a controversial extradition bill in Hong Kong appeared to have shown little signs of losing steam. Instead, the protest movements have expanded in terms of scale as well as level of violence with scenes of protesters clashing with riot police officers in various parts of the city. At times, such protests also paralyzed movement of commuters and tourists alike, raising concerns on the city's status as an international hub for finance, trade as well as tourism. What started as a protest against an extradition bill that critics said could be abused by the central government in Beijing has now become what the protesters claimed as their final battle in protecting the democratic rights they hold dear and developments to date seem to suggest that the ongoing stand-off between the government and various activist movements will not end anytime soon. In this special report, SAFEY will look at some of the topics that may come across travelers' minds when it comes to the protests and what can be done in order to mitigate the effects on his or her travelling plan.  
Where the protests have been occurring?
The anti-extradition bill protests have occurred at various locations in the city. Some of these protests have seen participants organizing sit-ins while others have seen them marching toward government buildings, resulting in congestion and road closures along the way. Several areas have become focal points for the protesters, and they are as follows:
Admiralty, Central
The areas around the Legislative Council Building (LegCo) such as Harcourt Road, Tim Wa Avenue and Tamar Park have seen some of the most violent clashes at the initial stages of the protests. At some point, some protesters also managed to break into the LegCo building, occupying it for several hours before being dispersed by the police. The Liaison Office Of The Central People's Government In Hong Kong also became a target when the national emblem was smeared by black paint by the anti-extradition protesters. Barriers have been put at the location as precautionary measure.
Cross-Harbour Tunnel
On 3 August, large group of protesters blocked the entrance to the tunnel, paralyzing traffic movement between Hong Kong Island and Kowloon. The tunnel was also blocked on 5 August during a general strike in the city.
Hong Kong International Airport (HKG)
The airport has seen its operation being severely disrupted several times in recent weeks due to protesters who moved to occupy the check-in area in the terminal building. Between 11-13 August, the airport saw its operation completely suspended twice, resulting in hundreds of flights being cancelled as well as thousands of passengers stranded. Police officers also clashed with the protesters as they moved to disperse them, resulting in injuries and arrests.
MTR stations and railway station
There have been several occasions in which protesters clashed with police officers inside the station. The most recent one occurred on the night of 11 August when police confronted the protesters at the Tai Koo MTR station. Heavy-handed tactics were reportedly used as the officers apprehended some of the protesters. Additionally, violence had also broken out at the Yuen Long MTR station when a group of mobs who dressed in white shirts started attacking protesters and passengers alike, resulting in 45 injuries.
Police stations
Protesters have also gathered outside police stations to protest against alleged police brutality. Projectiles have been thrown toward the compound previously, though there were no injuries. The police stations that have seen such gathering included the ones in Sham Shui Po, Kwai Chung, Tin Shui Wai, Wong Tai Sin and Tsim Sha Tsui.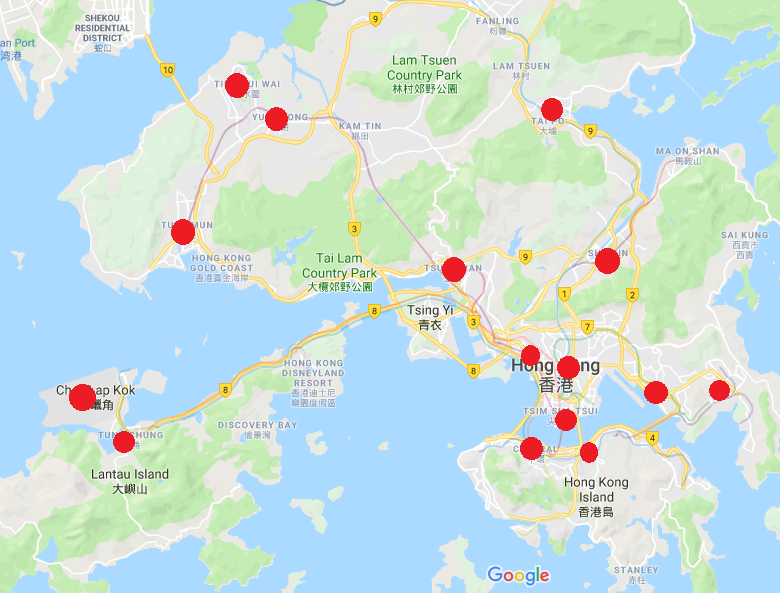 Protests have taken place in various districts in Hong Kong such as Central, Admiralty, Tseung Kwan O, Causeway Bay, Sham Shui Po, Tuen Mun, Yuen Long, Tung Chung and Tai Po among others.
Territory's transport crippled amid strike action
In addition to protests, a general strike was also held on 5 August, resulting in widespread disruption in the city. Flights were cancelled at the city's airport as a group of air traffic controllers decided to participate in the strike. A number of MTR services also suffered from severe delays as some protesters blocked trains from running on their tracks as well as refusing to let the platform doors closed. Shuttle buses were provided to lessen the impact but many of the city's office workers still did not manage to turn up on time for work due to congestion and diversions.
Police tactics 
The Hong Kong Police Force (HKPF) had thus far deployed a mixture of tactics in suppressing the protests. Riot shields, batons, pepper sprays, rubber bullets and tear gas have all been used in various situations to disperse the protesters. Human rights groups have accused the police of using excessive force while dispersing the protesters though the government had defended the force, insisting that they have exercised maximum restraint. The HKPF also confirmed the delivery of three water cannons in August though they have yet to be deployed despite undergoing successful testing. 
What should I do if I am currently in Hong Kong or heading there soon?
While travel advisories have been issued by multiple countries, there are still yet to be any "not to travel" warning with regards to the ongoing situation in Hong Kong. Despite this, some might choose to revise their travel plans to the territory while others continue to carry on with existing plans until situation turns otherwise. Here are some tips that you should know if you are currently in Hong Kong or planning to go there in the foreseeable future.
Avoid protest flashpoints/sites at all times (see above for list of common sites). Instances of clashes that involved bystanders have happened before and any protest sites should be avoided. SAFEY provides regular updates on the upcoming protests and details such as location and time. You should plan your journey bypassing these locations.
Always be ready to consider alternative travel options. While the MTR remains one of the most popular ways to get around Hong Kong, disruptions due to protest action have happened numerous times, resulting in severe delays and overcrowded platforms. You should consider alternative travel options such as trams, buses and taxis under such circumstances. It is also important to note that these options are still subject to road conditions and diversions during the protests, but they could still be faster as long as they do not pass by the protest sites. Downloading transportation apps such as MTR Mobile for rail, CitybusNWFB and APP 1933 – KMB/LWB for buses as well as HKTaxi for taxis might also come in handy if you are in the territory.
Keep your embassy/consulate contact details with you while travelling. Should you need any assistance, contact them immediately. The Australian consulate-general for instance had deployed officials to the airport during the 11-13 August protests that cancelled hundreds of flights.
Check flight status regularly. If you have a flight to catch from the city's airport, contact the airline service provider for updates before heading there. At the height of the protests at the airport, numerous airline companies such as British Airways, American Airlines, United Airlines, Turkish Airlines, Air Asia, Egypt Air, Malaysia Airlines, Lufthansa, Singapore Airlines and Cathay Pacific Airways among others were forced to cancel their flights due to suspension of check-in services. Additionally, the highway toward Chek Lap Kok, where the airport is located, and the Airport Express rail services might also be affected due to protest action. Be prepared to leave earlier than usual due to such situation.