As the political landscape has become increasingly polarized, demonstrations are lately a common occurrence in Venezuela. The current wave of mass protests began on 30th March, after Venezuela's Supreme Court magistrates ruled that it will take over the opposition-led Congress' legislative powers.
The day after the Supreme Court ruling, unrest exploded into full-blown mass protests in cities countrywide with almost daily anti-government marches in Caracas. Although the court quickly reversed its decision, street protests have continued. Tensions were further exacerbated after President Maduro was unwilling to give in to the opposition's demand for early presidential elections. The election, which was marked by unrest that killed at least 10 people, was labelled as illegitimate by the US, Colombia, Mexico and Peru governments. However, other countries such as Bolivia, Cuba, Nicaragua and Russia stood by President Maduro.
Opposition groups have not been the only ones rallying, as government supporters have been holding marches to show their loyalty. Clashes between opposing groups are not uncommon, as well as clashes between demonstrators with national guards and riot police. At least 124 people have died since the opposition-led protest began, with most deaths concentrated in the states of Lara and Merida, 22 and 16 respectively.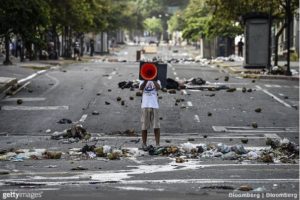 Venezuela is not facing only one crisis but multiple interconnected ones. It has experienced a three-year period of negative economic indicators and rampant inflation, which is expected to reach 720.5 percent this year, the highest in the Americas. In this period the country has seen record levels of violent crime. However, the economic crisis is hitting the country's public health system the hardest. In the country's public hospitals, medicine and equipment are increasingly unavailable (Advice on Venezuela's medical facilities is available to our users as part of SAFEY's static content.)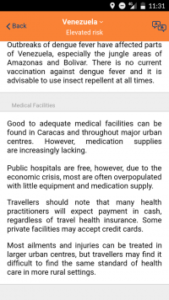 Since the current wave of demonstrations started in April, SAFEY has constantly kept its users updated in all security information related matters. More than 90 alerts have been sent since concerning upcoming protests and their status, given the plausible risk of violent escalation. Updates on transport disruptions caused by the demonstrations, as well as measures that can be taken to ensure safe travels in Caracas and other affected regions have been provided.
Further unrest is foreseen in the near future, as there are no signs of reconciliation between the government and the opposition. The newly inaugurated Constituent Assembly body gave itself the power to pass laws, superseding the opposition-led congress and deepening the polarization between the two bands. In addition, recent financial sanctions imposed by the US government on Venezuela's state oil company PDVSA and on the government, prompted President Maduro to order a two-days of military drills, as a deterrent against military intervention by the United States.