France was grind to a halt in the beginning of April as rail workers launched a series of strikes over President Emmanuel Macron's plans to overhaul the sector. The strikes that are expected to last until June have been regarded as one of Macron's biggest tests since he assumed office in 2017. To aggravate the situation, Air France's staff also announced their own strike action, putting more miseries to locals and travelers alike.
The French people are no strangers to strikes and such action is almost synonymous to the work environment in the country as pointed out by many. However, the strikes that are currently experienced in France are larger in scale. Although Macron is determined that his reforms are necessary to cut down the inefficiencies that have been dogging the state-owned rail company SNCF, the unions that wield considerable influence are adamant that the employees are wrongfully targeted in his plan. With Macron insisting that the reforms will be put in place by summer, the stand-off between his government and unions seems highly unlikely to end soon, resulting in more travel disruptions in the weeks ahead.
The ongoing rail strikes are scheduled to be carried out on two days out of every five until 28 June and will go on unless the government drops its reform plan. Since the start of the action, SAFEY has been providing continuous coverage of the event with seven updates focusing on the rail sector. This is because the strike has wide-ranging impacts not only on intercity services such as TGV and TER but also those operating in the Paris region such as RER, trams and the metro. On top of that, updates were also being provided about the four-day strike by Air France employees in April in which thousands of passengers were thought to have been affected.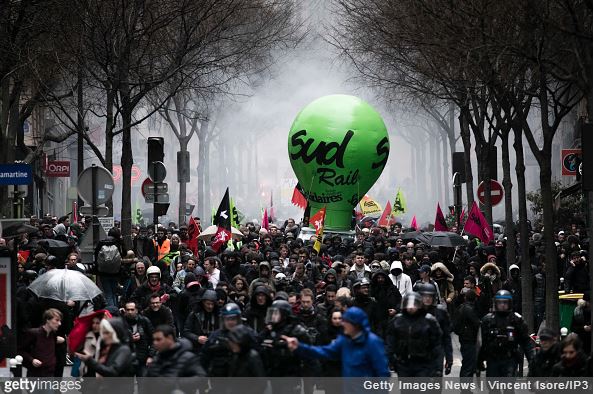 Besides the transportation sector, the discontent over Macron's economic reforms among the French public also extended to the education and health sectors. For instance, a general strike was held on 19 April by the General Confederation of Labor and Solidaires that called for better working conditions and salaries. Not only that, protests related to the strikes are also increasingly common as strikers gathered at key locations in major cities to voice their dissatisfaction and urged the government to address their grievances. Although there have not been incidents of serious unrest so far, scuffles periodically broke out as police attempted to disperse the protesters by force.
With this in mind, SAFEY will continue to provide important updates about the situation in France due to the strike amidst the approach of spring and summer travel seasons.
The following are the key strike dates in France that have been reported by SAFEY so far:
Strike by French rail staff from 3 April to 28 June

The strike will be held on two days out of every five. The dates that will be affected are 3, 4, 8, 9, 13, 14, 18, 19, 23, 24, 28 and 29 April. Further strike days have been planned in May and June.
Strike by Eiffel Tower staff on 13 April

A strike was carried out Eiffel Tower staff over the suspension of security personnel.
Air France strike on 3, 7, 17 and 18 April

Four days of strike were being announced by Air France's staff in April over an ongoing wage dispute.
General strike on 18-21 April

A general strike involving health and education sectors was called by the General Confederation of Labor and Solidaires to press for better pay and working conditions.