The Philippines is no stranger to an active insurgency, as they have been deeply entrenched in conflict with Islamic militants and communist rebels. When President Rodrigo R. Duterte took office in June 2016, he declared a unilateral ceasefire with the communists in his nationwide address. This was believed to be in an effort to find a peaceful resolution to the ongoing conflict.
However, the ceasefire agreement quickly collapsed in early February 2017. Duterte vowed to carry out operations against the group, highlighting the potential risks for travelers in the country.
While the other insurgent groups are largely concentrated in the south in Mindanao and Sulu provinces the NPA, (New People's Army) with its 3,200 strong fighters, are able to carry out operation across the country, including in Manila. This is due to its sophisticated urban infrastructure. For instance, this can be seen in a 2013 attack that killed nine police officers in the capital.
From the period between 1st -16th February, SAFEY reported 12 attacks by the NPA, of which most of them were targeted at the military. Despite this, it should be noted that collateral damage involving civilians has occurred, and the danger persists for those travelling that they could be caught in a crossfire between the military and this group.
The spike in attacks conducted by the NPA highlights its continued strength, despite participating in the ceasefire since mid-2016.
The Global Terrorism Index by the Institute for Economics and Peace stated that the NPA was the largest individual group responsible for at least 32% of terror-related deaths in 2014. The Philippines recorded 240 deaths caused by terrorism in the same year.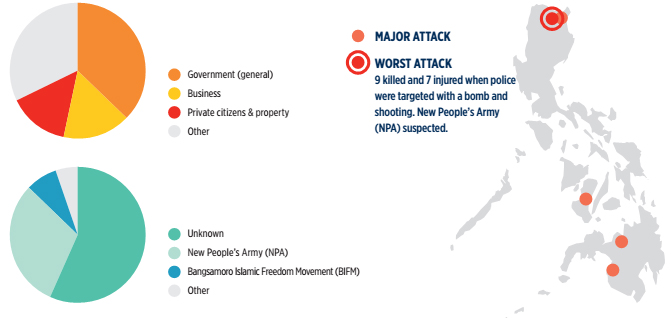 Terrorism and insurgency-related activities remain one of many risks facing the Filipino government, its citizens, and foreign travelers. Besides the NPA, the threats from other groups such as the Bangsamoro Islamic Freedom Fighters (BIFF), Abu Sayyaf and Moro Islamic Liberation Front (MILF) should also be taken into consideration when heading to the Philippines.
Apart from keeping abreast with local news sources, travelers can also monitor SAFEY regularly to receive updates on incidents related to the NPA and other militant groups in the country.