On April 7th, a terrorist attack occurred in Stockholm where a truck rammed into pedestrians in downtown Stockholm, killing four people and leaving at least 15 others wounded. The incident was later confirmed as a terrorist attack and is part of a growing trend of using a vehicle in crowded places as part of a terror attack. Similar attacks had taken place previously in Berlin, Nice as well as in London, barely two weeks prior to the event in Sweden.
The Stockholm attack occurred on a Friday afternoon, in one of the busiest areas of the city, Drottninggatan. What was meant to be a normal shopping day for many at the pedestrianized section of the area suddenly turned into a chaotic scene when the beer truck that came out of nowhere and bulldozed through pedestrians before coming to a halt at the Åhlens department store.
While media reports quickly emerged about the incident, there was also a sense of confusion on the streets of Stockholm with unconfirmed rumors circulating that three armed attackers escaped from the scene and started to open fire at the main train station in the city. As the public continued to evacuate, a lockdown was also initiated by the police for most of downtown Stockholm, as well as the metro system to prevent further untoward incidents. Traffic in the vicinity also came to a standstill amid the lockdown.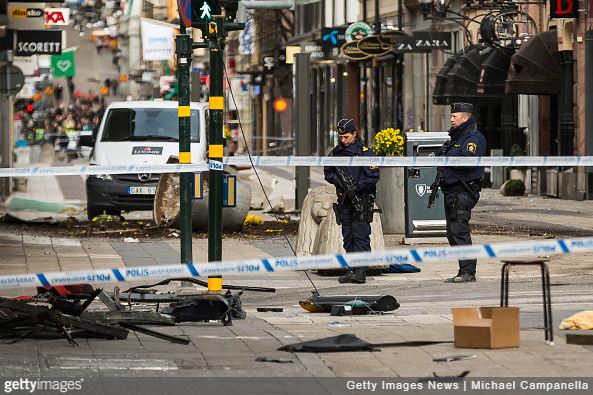 During this period, the team of analysts at SAFEY Emergency System continued to send alerts to users with up-to-date information about the situation in Stockholm. We advised people to stay away from the city center where possible until the situation calmed down.
With so many conflicting reports, the SAFEY analytical team only provided verified information to prevent panic. One such example would be the reports of shooting near the main train station where the team chose to highlight only on the police operation nearby instead of the reports of a shooting that turned out to be false eventually.
A total of six alerts were sent on the day containing information about the circumstances of the attack, as well as, transport information in its aftermath.
In general, here are some advice for travelers if a terrorist attack occurs:
• Remain calm.
• Follow the instruction of emergency personnel.
• Listen to local media broadcasts for further information.
• Avoid all non-essential traveling to affected area until clearance is given by the authorities.