On July 7-8th world leaders from the members of the G20 group gathered in Hamburg, Germany for the annual meeting to discuss the international economic agenda. The meeting was attended by top officials from various countries and meant a significant boost to security in the city as well as the likelihood of public unrest.
SAFEY sent out an alert several days prior to the meeting informing users on how the event would likely affect travel in the city. The service provided necessary information on possible demonstrations, disruptions to local traffic and expected heightened security throughout Hamburg. The security measures meant that authorities would cordon off event locations, as well as the possibility of security screenings such as random ID checks.
Days prior and as the summit came underway several protests broke out despite a ban on gatherings during the summit. The rallies involved both peaceful and radical elements but were regardless met with police resistance due to the ban. On July 4th protests resulted in minor skirmishes between police and protesters. Days later on July 6th and 7th the rallies became increasingly violent and riot police resorted to using water cannons to break protest blockades in the city, resulting in injuries on both sides and primarily the police with around 200 officers injured. On July 7th there were further reports of multiple vehicles being set on fire as well as cases of looting and unruly protesters throwing projectiles at the police. An estimated 100,000 people were concluded to have participated in the demonstrations.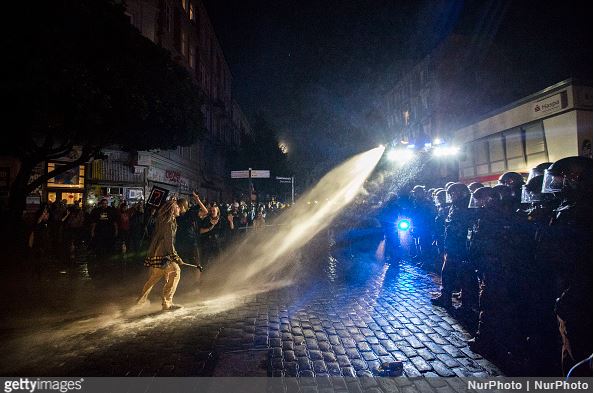 The G20 riots highlight the sensitive nature of political demonstrations and shows that large gatherings often tend to have the potential for unrest and violence. Such incidents are likely to occur when protests address sensitive political issues. Large scale international summits often attract rallies from various anti-capitalism and anti-globalism opposition groups. The presence of important political figures also means that authorities are on higher alert to ensure safety near event venues and along infrastructure routes where the officials travel.
SAFEY advises that protests which might appear peaceful can turn confrontational on very short notice. Clashes between rival protesters or police forces may pose an immediate danger to safety, but travelers may also be mistaken for participants if in proximity to the protests, resulting in legal issues with local and state authorities.